Cleaning On The Go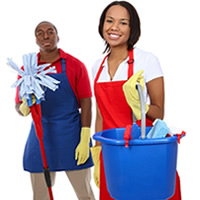 Some days it really does feel like Groundhog Day and I tire of cleaning again and again. It can become monotonous and quite frankly boring. It is at these times, the idea of hiring a cleaner seems appealing.
Like most women I love having a sparkling kitchen and bathroom. It is such a shame that my children do not share my sentiments! They are guaranteed to drop pieces of food with every meal – oh and spill drinks every now and then! By nature, I have very little tolerance for mess, however I have learnt to allow my children to eat and drink freely with the intention of cleaning as they finish.
I clean whilst my children are playing or following me around the house. I clean the bathroom when they are in the bath which is great as I can keep an eye on them. Before having children I had naively decided that I would clean whilst they slept. It worked with my daughter but my son point black refuses to nap for more than 30 minutes when we are home. Some of you may prefer to clean late at night – whatever you decide, be realistic.
A few tips from me;
Clean for 15 minutes a few times a day rather than a full blown hour. You are less likely to feel overwhelmed. Listening to upbeat music also helps!
Minimise the number of items you place on surfaces. This will act against clutter and make it easier for you to clean. My kitchen surfaces are home to a microwave, kettle, toaster and breadbin. That is it!
Wipe your bath and kitchen taps with baby oil – they will instantly shine.
Wipe surfaces with baby wipes. This will clean and pick up excess dust.
Only use soft sponges to clean your bath along with a cream cleaner. Try to avoid using rough cloths as these can scrape off the enamel.
Perhaps you have some tips to share. Let me know!
Source: http://organisedmama.blog.com