Devotional 2023 - Week 4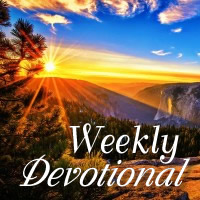 1 Samuel 1: 9 – 11, 19 – 20 & 24 – 28
9 So Hannah arose after they had finished eating and drinking in Shiloh. Now Eli the priest was sitting on the seat by the doorpost of the [c]tabernacle of the Lord. 10 And she was in bitterness of soul, and prayed to the Lord and [d]wept in anguish. 11 Then she made a vow and said, "O Lord of hosts, if You will indeed look on the affliction of Your maidservant and remember me, and not forget Your maidservant, but will give Your maidservant a male child, then I will give him to the Lord all the days of his life, and no razor shall come upon his head."
19 Then they rose early in the morning and worshiped before the LORD, and returned and came to their house at Ramah. And Elkanah knew Hannah his wife, and the Lord remembered her. 20 So it came to pass in the process of time that Hannah conceived and bore a son, and called his name [f]Samuel, saying, "Because I have asked for him from the Lord."
24 Now when she had weaned him, she took him up with her, with [a]three bulls, one ephah of flour, and a skin of wine, and brought him to the house of the Lord in Shiloh. And the child was young. 25 Then they slaughtered a bull, and brought the child to Eli. 26 And she said, "O my lord! As your soul lives, my lord, I am the woman who stood by you here, praying to the Lord. 27 For this child I prayed, and the Lord has granted me my petition which I asked of Him. 28 Therefore I also have lent him to the Lord; as long as he lives he shall be [b]lent to the Lord." So they worshiped the Lord there.
Dear sisters we are trusting that this year as we call upon the Lord, He will hear and answer our most desperate cries. He did this for  Hannah when she cried out to Him from the depths of her being, trusting that God could bless her. True to who He is, God remembered her and answered her prayers for a son. Hannah in turn remembered God after she received the blessing of Samuel.
May we be women that will remember the Lord after He has remembered us. May we not be women who will forget the Lord after we have received His blessings. Many ladies pray and wait for the blessing of a life partner, a new job, children, a new house, restoration of family relationships, financial increase, breakthrough with a difficult employer, deliverance from evil, salvation of their lost ones and the Lord answers them in His own time. Unfortunately, many of such ladies forget the Lord afterwards "hugging" the blessing, but forgetting the giver of the blessing. May that not be you and I in 2023. After the Lord has answered and blessed you this year, remember Him, return to Him, give to him, praise Him, worship Him, honour Him, serve Him, live for Him, be even more passionate in your love for Him. Let Him know you love the giver not just the gift. Let Him know you are not there to use Him and forget Him, but that He means the world to you at all times.
Grace to you in 2023 as you pursue, overtake and recover all!