Devotional 2021 - Week 1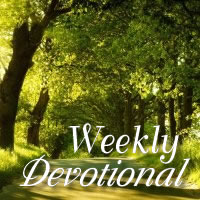 Ephesians 6: 11 - 18 (NKJV)
11 Put on the whole armor of God, that you may be able to stand against the wiles of the devil. 12 For we do not wrestle against flesh and blood, but against principalities, against powers, against the rulers of the darkness of this age, against spiritual hosts of wickedness in the heavenly places. 13 Therefore take up the whole armor of God, that you may be able to withstand in the evil day, and having done all, to stand.
14 Stand therefore, having girded your waist with truth, having put on the breastplate of righteousness, 15 and having shod your feet with the preparation of the gospel of peace; 16 above all, taking the shield of faith with which you will be able to quench all the fiery darts of the wicked one. 17 And take the helmet of salvation, and the sword of the Spirit, which is the word of God; 18 praying always with all prayer and supplication in the Spirit, being watchful to this end with all perseverance and supplication for all the saints—
Welcome to 2021! By God's grace we made it, glory Hallelujah!
I pray for you and I will STAND this year and be STRONG IN THE LORD in Jesus mighty name Amen!
Our Bible Text this week gives us some counsel that will help us do so. Here goes.
One, you and I must put round us truth. Jesus is the truth. He must be the centre of our lives. We must surround ourself with truth
Second, you and I must put on righteousness. We must walk and live in righteousness. Have a righteous lifestyle that encompasses our thoughts, words, actions, attitudes, motives.
Third, you and I must be prepared at all times with the good news and gospel of peace. Being prepared to share it in season and out of season. When it is convenient and when it is not. We must know the good news inside out and be bold to share it and always give the reason for the hope that is in us.
Fourth, you and I must have the shield of faith on at all times. We must wear it to quench every fiery darts of the enemy. We don't know when and how he will come at us. So, we must make sure we are always clothed with faith
Fifth, you and I must always put on the helmet of salvation. Don't put away your salvation. Never put off Christ. Remain in Him, abide in Him.
Sixth, you and I must take hold of the sword of the spirit which is the Word of God. I must have the Word in me, be full of the Word and I must use it for every situation
Finally, you and I must always be praying. Praying with all prayers, and supplication in the Spirit. We must also be watchful as we pray.
May the Lord grant each one of us grace this year to continuously have on our full armour and to see many victories in Jesus name Amen.