Devotional 2018 - Week 28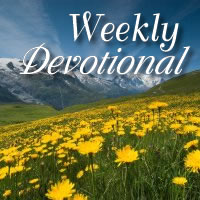 Matthew 5: 13 - 16 (NIV)
"You are the salt of the earth. But if the salt loses its saltiness, how can it be made salty again? It is no longer good for anything, except to be thrown out and trampled underfoot.
"You are the light of the world. A town built on a hill cannot be hidden. Neither do people light a lamp and put it under a bowl. Instead they put it on its stand, and it gives light to everyone in the house. In the same way, let your light shine before others, that they may see your good deeds and glorify your Father in heaven."

We are called to shine as women of God. We are called to do God's work as He has equipped us.  In order to impact on our environment we must shine our light glorifying God in all we do. For many we are the closest to Jesus they will get and it is of utmost importance we reflect His goodness, His mercy and His love.
We are commanded not to be troubled but many of us allow life's challenges to impact on our joy, our mood and our attitude. When we are unsure which road to take, which decision to make we must first bring our hearts to God asking for wisdom. We are not expected to find our own way through the valley but to allow God to walk with us. He is there but we need to let Him in. God is gracious and a gentleman, He does not push His way in but waits for us to beckon Him in.

When trouble comes our way let us look to God to help us find a solution. Let us not look to man whose wisdom is limited. When we are found in situations in which we must endure, God is the only one who can bring us true peace and hope that it will come to an end. God has the answers, God is our comforter, our strength, our anchor.  He never gives as the world gives. He will never fail us.