Devotional 2019 - Week 13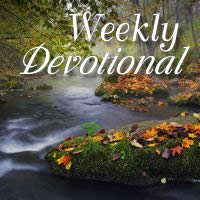 Psalm 41: 1 – 3 (NKJV)
Blessed is he who considers the poor;
The Lord will deliver him in time of trouble.
2 The Lord will preserve him and keep him alive,
And he will be blessed on the earth;
You will not deliver him to the will of his enemies.
3 The Lord will strengthen him on his bed of illness;
You will sustain him on his sickbed.
The poor are so special to God, and close to His heart. When we consider them and are kind to them, the Bible declares us blessed.
In this first few verses of Psalm 41 we see promise upon promise of God's goodness for us. I was blown away as I read these promises.
When we support the poor, we are promised rescue and deliverance when we are in trouble. When we support the poor, the Lord protects and keeps us alive. When we support the poor, we are blessed, empowered to prosper, and delivered from the plans of our enemies. When we support the poor, the Lord strengthens us when we are sick and restores us to health.
These are exceeding great promises available to us, as we prioritise the poor. Let's make it part of our lifestyle to be a blessing to the poor with our time, money, talents / giftings, material resources etc. Let's be those who share of our substance with the poor in our family, our community, our nation and the nations of the world as the Lord leads us. Let's remember those who are less fortunate than we are. We don't have to wait to be millionaires before we starting being kind and supportive to the poor. We should start now with what we have.
A good way to remember the poor regularly is to allocate a portion of our regular income, or profits from our business to the needy every time we get paid. So, include giving to the poor in your weekly or monthly budget where possible. Another way is to give of our time and talents / giftings to help them. Be open also to the prompting and voice of the Holy Spirit to direct you in giving to the poor.
The blessings of God's promises await you and I as we take this on board. Go for it my sister……
May the Grace of our Lord Jesus Christ be with you….