Devotional 2019 - Week 1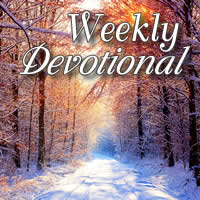 Isaiah 43: 18 - 19 (NKJV)
"Do not remember the former things,
Nor consider the things of old.
19 Behold, I will do a new thing,
Now it shall spring forth;
Shall you not know it?
I will even make a road in the wilderness
And rivers in the desert.
Happy New Year my dear Sisters!
This is God's Word to us all as we start this brand-new year. He is saying you and I have a new beginning, a new start. He is asking us to forget the old things, to not dwell over them, to not leave sleep over them. Whether they were ugly, bad, good, great, disappointing, or painful, let's leave them in the past.
He is asking us to look ahead with hope and trust in Him because He will do a new thing in our lives this year. He will make a way where there has seemed to be no way for years. He will breakthrough for us like a breakthrough of waters. He will manifest Himself in your life and mine as we believe Him and align ourselves with obedience to His Word, and His Will
He wants you to keep your eyes on Him so you can see the wondrous and miraculous things He will do in your life, home, family and Church. Good things that you have not seen before will be your portion this year in Jesus.  You and I will taste and see that the Lord is good and His mercies endure forever in 2019. He will do the impossible in your life this year in Jesus name. Amen.
God's Word that has gone forth will not return to Him void, so I challenge you to write down / make a note of God's goodness to you all through the year and you will be amazed of all that He will do as you stand in faith and believe all year.
I look forward with excitement to the testimonies that will abound.
Have a blessed, prosperous, fruitful and flourishing 2019!!!