Devotional 2018 - Week 41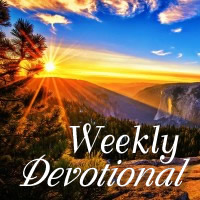 Luke 1: 37 (NKJV)
"For with God nothing will be impossible"
Matthew 19 vs 26 (NKJV)
"But Jesus looked at them and said to them, "With men this is impossible, but with God all things are possible."
Have you ever looked at some situations and circumstances and felt no good can come out of them?
Have you felt like things cannot change, or given up hope, or just plainly find it hard to believe that there is going to be a turn round?
Have you resigned yourself to the thought that things cannot be different, or that God is never going to answer your longstanding prayers to Him?
Do you struggle with believing God for breakthrough in a particular area of your life? It might be in the area of salvation of souls for your family, healing, spiritual progress, growth, relationships, finances, career, ministry breakthrough, education, business, a life partner, children, your own home etc.
Do you use the word "impossible" and the phrase "not possible" frequently, or even think it?
I have good news for you today based on the scriptures.  There is nothing impossible with God. Of ourselves we have no power to change many of our situations, but God can change them all, yes everyone of them.
He has the power to create that which has not been created. He has the power to bring into existence what has never existed. He is so powerful he can do absolutely anything and the brilliant news, is He will do it for you, yes I mean you.
Please believe Him. He is the one who caused a woman who had never slept with a man, or gone through any child bearing medical operation to have children, to become pregnant and carry that child full time till she delivered that child. Her name was Mary the mother of our Lord Jesus. He is the one who caused a woman who was barren and advanced in age (in other words, an old woman) to conceive and have a son. Her name was Elizabeth, the mother of John.
He is the God that can cause a camel to go through the eye of a needle effortlessly. He specialises in impossible situations. He specialises in breakthrough longstanding situations.
God only calls you and I to trust Him. To believe Him to the last. To not give up in trusting and believing Him till we breathe our last breath. So please don't "park" your situation and throw the keys away. Don't try and solve it yourself either. Give it to God and have faith for your miracle, whatever the situation is. Believe Him for great things. Believe Him for that which man sees as impossible. Believe Him for things never seen, never heard, never experienced.  Why? The Bible tells us that eye has not seen, ear has not heard, nor has it entered into our hearts what God has prepared for those who love Him.
Believe His Word and as you do, there will be a performance and fulfilment of those things He has spoken and that you have believed.
My sister, God is wanting to show yourself mighty on your behalf. Let today be the first day of Him continually doing the impossible in your life.
From today, my sister all things become possible for you by the power of the name of Jesus Amen !
Great grace to you!